As a Cinematographer, I have spent many hours exploring new technology, evaluating new camera systems and asking questions – "Can this be done with this piece of kit?" However, mostly these "camera technological advancements" have been at odds with the Producers budget or at loggerheads with the creative team's pursuit of the "Look". I don't know how many times someone has approached me with the desire to shoot on a new format and after intensive testing, I have found it to be substandard to what our ultimate aim is. HDV is a good example of this. A simply awful intermediate technology that bridged the gap between mini DV/DV production and HD video recording. Great for the budget but basically crap for the "Look"!
As a Director of Television Commercials, I also have been on the prowl for equipment that is affordable and also delivers an aesthetic quality that is pleasing firstly to me – then the rest of the world! As the world economy shrinks, advertising budgets for mainstream outlets such as Print, Radio and Television have suffered. While "New Digital Mediums" such as Web, DVD and other digital forms of communications have increased their advertising spend. This would at first look like it evens itself out but unfortunately this is not the case. The Internet and other Digital content delivery systems do not provide Production Houses with the same resources as mainstream advertising. The general perception is that these outlets are cheaper, leaner and quicker! As a result, "Web Production Houses", who provide content exclusively for the Web, often find themselves as the Ad Agency, The Production House, The Post Production House and the Media Outlet all wrapped into one mess! In my experience, most of these places provide a less then satisfactory experience for their Clients because they have to spread their abilities & resources too far. Savvy Clients then use this to broker better deals with "Mainstream Ad Agencies" to further squeeze their budgets while retaining better creative campaigns. It's an uneasy system that in Australia is reeking havoc with Production Company survival rates. Ultimately, when I see a budget for a Television Commercial, there isn't much to play with. The old days of having a full crew onset are long gone and shooting film is certainly not a given! In fact, now days, I rarely get to see film at all. Overseas, in Asia, I still shoot mostly 35mm film but even that is now changing. Since RED arrived on the scene, there is an expectation due to budget, to shoot digitally. That's fine by me if it isn't in conflict with the creative process.
I believe that the legacy of the "Film Look" is mostly the issue. Film was and still is an incredible medium. Over the years, the "Film Look" has been the holy grail of Videographers. As we all (Cinematographers, Video Camera and Lighting Personnel, Directors and Others) become Digital Cinematographers, the quest for a film like feel is still very strong. Manufacturers like P+S Technik have produced devices that provide a simulated way of recording the "Depth of Field" of film via an intermediate optical block. I myself have used these devices to shoot Australian Television Commercials, Music Videos and the Feature Film "Storm Warning". In all cases, the recording format was video tape. However, while these devices did in fact augment the look of video, they still lacked a real ability to reproduce the true aesthetic of film in my opinion. They were techniques to solve a budgetary issue while minimising the impact to the creative process.
Enter the world "Digital Acquisition". I need to distinguish this from traditional video tape recording. "Digital Acquisition" is tapeless. It exceeds the ability of tape recording mechanisms in quality, size and resolution. The revolution of camera systems like RED One, Phantom, Arri's D21, Silicon Imaging SI-2K and many others is that they record direct to disc. The real revolution is that they have made video tape redundant completely! Most of these systems use Cinema style lenses and mounts, with Sensors that approach the same size as 35mm film. The result is that they reproduce the same optical focal conditions as film, providing the shallow "depth of field" we all crave. Most of these systems provide a much better "RAW" digital negative then videotape ever could also. Many record images twice that of HD video tape with future variants exceeding 4 times that of what's possible from a video tape recording! You would think that I would be happy?! However I'm not! Nearly all these cameras, as good as they are, once built up to full production standards, are simply too heavy. They are often victims of their own technological heritage and crash! Driven by what amounts to a pretty powerful computer, they are susceptible to heat, wet, shock, dust and sand to a much greater extent then film ever was! Not to mention, that every different manufacturer has their own guidelines for system design, integration and menu structure. This makes learning a new Digital Camera System a massive undertaking for every Digital Cinematographer. What's more, with the added element of a thing called a "firmware update", new capabilities can be injected into existing designs, totally modifying that cameras handling and recording abilities. That's like "pulling the carpet out from under your feet" for a Cinematographer! The look and feel of various brands of 35mm film was a key decision process for Cinematographers and was a vital part of every Cinematographers training, to become familiar by trial and error, with the various "Looks" provided by each type of film. The constant stream of firmware updates means that Digital Cinematographers have to re-familiarise themselves each time they pick up a camera. This is very time consuming.
Enter a new era again. The DSLR (digital single-lens reflex camera) changes the way Stills Photographers shoot completely. It's fair to say now, that most Professional Photographers have adopted "Digital" as their main form of photography. Nikon, Canon and Panasonic (to name a few) release DSLR's that are capable of shooting "Video". Suddenly we have a new kind of revolution taking place. Traditional Video cameras are starting to blend with Photographic stills cameras producing a hybrid camera system that don't utilise video tape either. Canon in-particular, adds this functionality into their new 5D MKII full sensor Stills camera as a result of a request from Associated Press,Reuters. The reason – so that Field Reporters/ Photographers could shoot Video and Stills with the same light weight camera system and lenses whilst on assignment. I have to qualify that I have shot and Directed Commercials for Canon, including one which features the 5D MKII. However I'm speaking here as an owner and a User and not as a Reseller. Other cameras exist that also can do what the 5D MKII is capable of, I'm simply concentrating on what I know best. For Digital Cinematographers, these type of cameras are also subject to a constant stream of "Firmware Updates" but are much simpler in overall design.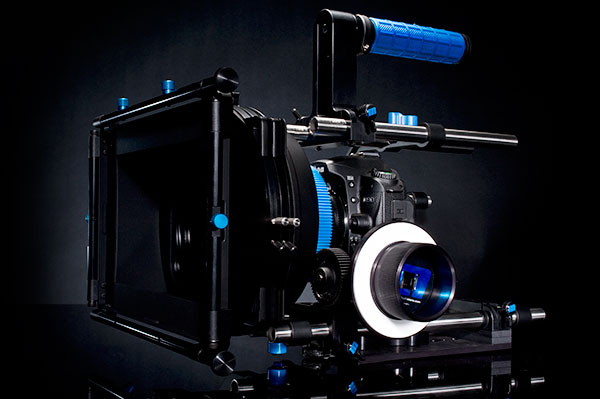 At NAB 2009, James Mathers (President of the Digital Cinema Society in the USA) interviewed Tim Smith from Canon USA and Tim revealed that Canon hadn't expected that the camera would be "Dragged" over into the Cinema world as it has. The 5D MKII has become a center point to a new kind of filmmaking movement. Many different manufactures produce complete Cinema style accessories for the 5DMKII including RedrockMicro, DVCity, Indi Systems, chrosziel and Zacuto just to mention a few. There are also professional audio interfaces available like those from Beachtek. Other Inventors are providing monitoring ideas like Dirk Fletcher, while Professional Monitoring solutions are now available from Marshall. On the Web, the new media outlet of the future, there are hundreds of would be Filmmakers and Professionals alike producing stunning short films. Just visit vimeo.com, a popular video sharing web host. Search 5D MKII (or anyway you would like to spell it) and see the hundreds of videos the search engine returns. The same is true on Youtube. There are also many blogs and forums that specialise in 5DMKII Cinematography and filmmaking such as cinema5d.com, canon5dtips.com, and planet5d.com. Many Stills Photographers are also seeing the possibilities of merging Photography with Video. For wedding Photographers that also shoot video for their Clients, this type of unison in camera equipment is incredibly handy. Most importantly it provides a rich visual and photographic style of capturing motion. Famous photographers like Vincent La Forethave actively embraced the new style of cameras, and now shoot Stills and Motion for their Clients. Many are now even shooting Television Commercials as well as the Print requirements. Cameras like the 5D MKII and Nikons D3 are game changers! Yes these cameras are still expensive for the ordinary folk but if you consider that the equivalent HD Video camera used to cost $250,000AU not so long ago, it's not expensive at all. Not to mention high quality interchangeable lenses – something many prosumer camcorders never delivered. A set of Cinema style lenses used on 35mm motion picture cameras can cost as much as $250,000 also. So the ability for photographers who already own good quality glass, to shoot stunning motion video on these DSLR's is a massive price advantage.
This Redrock Micro tutorial details the setup and basic configuration of the DSLR Cinema Bundle and Field Cinema Bundle
Where will it all end? No doubt there are other forms of Photography and Cinematography that are being developed. There is a large push for feature films to be shot in 3D at the moment for instance. These early DSLR's, that shoot HD video, are not perfect. The 5D MKII currently shoots 1920 x 1080 at 30P only. It has no manual control for setting iris and shutter speed etc. A firmware upgrade is likely, and will see it perhaps achieving some of our wishes but ultimately the physical design is not optimum for filmmaking. However, I believe the next generation of DSLR's will have a much more focused mandate. This will almost certainly include both Filmmakers and traditional Stills photographers wishes. What excites me is that these cameras are being designed with direct participation from the end user, are much lighter in weight then the current crop of Digital Filmmaking tools, and cost much , much less. These cameras will not be a sacrifice on quality, usability and aesthetics like Cinematographers from the "Film Era" have come to expect. In conclusion, I'm very optimistic that we are all heading for a very bright future in the world of Digital Acquisition that will hopefully once again promote ideas and artistry.
Other references see Wikipedia and Canon USA
Interesting reads include: Interview Vincent LaForet and How to use the Auto Exposure Lock